We do makeover shoots. If you want a makover and some great pictures to show your true beauty, just like the professionals do on magazine shoots, then please give us a call. Details are at the bottom of the page.
In the meantime, here's Emily's story
Here is a shoot that we did with my daughter Emily. It was a Sunday morning and she had been out the evening before. Actually it would be more appropriate to say that she had been partying until the early hours of the morning.
I told her to come around with no makeup so we could do a before and after shoot. I did not expect her to come with wet hair. So it is fair to say that this before and after is a little dramatic. Here is Emily with wet hair before her shoot.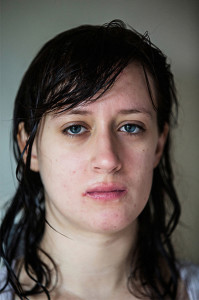 Her lips were very dry and so she had lost some definition here. I applied a primer base and foundation which was a Max Factor Natural . And I used a finishing powder.For her eyes I used a Collection Smokey Eye s palette. And she applied mascara RevitaLash mascara. I always like the client to use mascara themselves. (It seem less threatening that a Makeup Artist coming at you with an eye brush. (Most women are more than capable of putting their mascara on.) We did line the eye, but to be honest I cannot remeber if it was a powder or pencil liner.
For the cheeks I used a YBF blush. And finished off her lips in a beautiful Laura Geller Rosato. This is a 'to die for' colour, and looks great on people with dark hair. I just love the Laura Geller lipsticks. I am a big, big fan.
The first  'after' shot here has very little post production on it. Most of what you see here is as it was taken in camera. The clarity was upped a little in Adobe Lightroom. There is no photoshop on the first picture The transformation is mostly down to makeup application. Oh, and a hairdryer, plus a smile. We thought this first shot was a very natural look. But Emily is in her teens and wanted some thing a little more dramatic. So we gave her a more heavily post production shot in the second makeover picture..
I actually quite liked the second shot but in the end Emily preferred the former version.We only had her for twenty minutes after makeup, but we did get some pretty good pictures in the end. Here are two others. The last shot has some drama in it, but after all, it's just for fun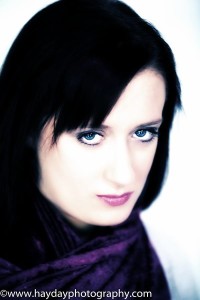 If you would like to have a makeover, call me ( Allison ) on 01246 229208.
We are based in Chesterfield and run friendly and informal sessions.
Or email me allison@epmailbox.co.uk