So here begins the lipstick dramas. My ID Bare Escenutuals lip palette runs out of my favoutie colours. I love this palette. And Bare Minerals, as they now like to be known, don't seem to have a dupe. I tried.
I bought these two lipsticks thinking from the on screen shot at barereminerals.co.uk  thinking they would be a good substitute. I knew I was taking a gamble, as they don't accept returns for wrong colour choice, but they looked a pretty good match on screen. The colours are Parfait and Spiced Raisin. Spiced Raisin is the darker of the two. I think I would use the Parfait lipstick but the spiced raisin is really too dark for my skin tone.
I put the lipsticks away thinking I would use the lighter of the two, (I actually put them back in the jiffy bag they came from and left them in a cool place, on a north facing window sill that gets no direct light,)but on returning to the package some two weeks later, I noticed these beads of what can only be called, wax deposits. Almost like a crayon had sweat. I used the Parfait lipstick on my lips and it tasted like a wax crayon and smelt like a candle.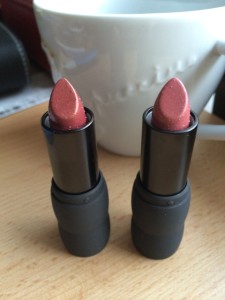 I paid £14 plus P&P for these lipsticks. I remember it wasn't an easy transaction because their web site was playing up, and I tried to place the order over the phone only to be told that they didn't take telephone orders. I nearly gave up, but my desire to have the right lipstick shade in my makeup bag just got the better of me. What women will do in the name of beauty!
As my husband is an IT consultant as well as a photographer, I got him to locate the error on their website and he made a note of it to show them the problem. When I told them this, the response of the lady on the telephone was to send it to them by email and they would get their IT department to "look at it for you." At this point my attitude was that actually  we were notifying them of a fault that could lose them money and she had just made it sound like they were doing me a favour. So needless to say no email was sent.
As our American cousins would say, all this just kind of "sucks."  I went to a lot of trouble to find a duplicate of my favourite colours and it seems like I have ended up with a waxy poor substitute. I  did think of ordering the two lighter colours in this range. In fact I went to Debenhams to see if I could find them, but there was no assistant on the counter, and try as I might, I could not find these lipsticks, just the Moxie range. I do understand this range contains wax, but honestly, this lipstick tastes like some cheap lippy from the 80's.
Usually at this point I would just through them away, but after I had gone to so much trouble, and I do in fact like the brand, despite some issues, I thought I would give them a call about the waxy build up. It was Saturday, in peak Christmas buying season and their website had no support. I called the number on their website and I was given a recorded message that their office hours were Monday to Friday. I don't really have a lot else to add really. Perhaps I will call Monday or  perhaps I should just use another brand.